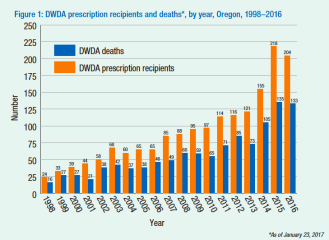 [NOTE:  Because of a problem with a component of the website, I am re-publishing this post today.  A new post will appear in the in-boxes of subscribers Monday.  I had hoped we would get some comments or feedback about this post.]
In Part 1, I discussed the state of death with dignity (DWD) laws in the United States and suggested eliminating the "six months to live" criterion. Here in Part 2, I discuss the Canadian example, other suggestions that may ease some restrictions of death with dignity acts (DWDAs), and add an important precaution that should help protect vulnerable people and provide better medical services.
What Canada has to offer
Canada uses a "grievous and irremediable medical condition" standard –
Under federal legislation, an individual has a grievous and irremediable medical condition if:
a. They have a serious and incurable illness, disease or disability;
b. They are in an advanced state of irreversible decline in capability;
c. That illness, disease or disability, or that state of decline causes them enduring physical or psychological suffering that is intolerable to them and that cannot be relieved under conditions that they consider acceptable; and
d. Their natural death has become reasonably foreseeable, taking into account all of their medical circumstances, without a prognosis necessarily having been made as to the specific length of time that the individual has to live.
While the Canadian standard avoids the rigid "six months" criterion of US DWDAs, it may have its own problems. If only medical professionals can decide what is an "advanced state of irreversible decline," what is "grievous," what is "psychological suffering," and what is "reasonably foreseeable," the standard may deprive patients of autonomy which should be theirs. It appears, also, that the "advanced state of irreversible decline" criterion presents an insurmountable obstacle for those with irreversible conditions such as ALS, dementia, and many others listed in Part 1 of this series, who may be forced to wait further into their disease than they wish–to a point where they can no longer act on their own or lack the mental capacity to do so. "Irreversible decline" without modifiers should be a sufficient standard.
A role for clinical social workers and psychologists
I favor using clinical social workers or clinical psychologists as gatekeepers in the DWDA process. My view is that we ask sick, debilitated, or dying patients to jump through too many procedural hoops to achieve the peaceful and good death that they seek. They can benefit from the training and expertise of these other professionals, who are capable of assessing the whole person, adding another level of precaution to a process that may merely frustrate patients, rather than help them in their decisions.
Clinical social workers and psychologists can also serve as advocates, facilitators, protectors, and interpreters for the patient with family members, physicians, clergy, hospital administrators, nurses, etc. I envision the following process:
a. A patient with a terminal or irreversible condition will be referred by the person's physician to a clinical social worker or psychologist–which could happen years before the person might consider hastening his death. Also, any patient who has decided that his life should come to an end to satisfy his own criteria of dignity, comfort, suffering, pain, and existential concerns could announce (orally or in writing or by other means) his decision to his physician, who will record the discussion in the patient's medical records or receive a written statement from the patient, or both.

b. When a patient broaches the subject with the physician, the physician should then review his medical condition(s) with him and make a referral to a clinical social worker or psychologist, whose task would be to thoroughly evaluate the patient's medical condition(s), psychological aspect, social/familial circumstances, and access to medical (including palliative) care.

c. The social worker or psychologist should then prepare a report and send it to both the patient and the patient's physician (and perhaps others), indicating whether the patient has sound decision-making capacity, appreciates the nature of the request for Medical Assistance In Dying (MAID) if that is the patient's choice, and is qualified for MAID.
The patient who is qualified for MAID should then be permitted to decide to receive appropriate drugs to hasten his own death or to receive an injection to be administered by the physician at a time of the patient's choosing. There need be no additional waiting, if that is the patient's choice.
Drawbacks to this proposal
This proposal has some downsides. The most obvious is who will pay the clinical social worker or psychologist. Physicians can bill health insurance plans for their own services, as well as those of their staff. Perhaps clinical social workers and psychologists could be a part of a physician's staff, just as physician assistants are, either as direct employees or by contract. All hospice programs with which I am familiar employ clinical social workers on their staffs and compensate them, along with supervising physicians, administrators, chaplains, and others. The current health care system should be able to accommodate this financial compensation issue.
Further, as Faye Girsh has pointed out elsewhere, California has had problems finding physicians who will participate in its relatively new DWDA, named the End of Life Option Act (EOLOA). Finding physicians willing to give injections of terminal drugs to MAID-qualified patients who choose this method may be more difficult than finding physicians to write prescriptions for terminal drugs. Canada has a few physicians willing to provide injections, but clearly Canada is different from the US in its medical and social culture.
On the other hand, clinical social workers and psychologists are trained to marshal resources for their clients, and that training could include finding physicians who have broader understandings of the meaning of patient care, or educating physicians about the need to apply their skills to meeting all of the medical needs of patients.
About four years ago, Oregon began a publicity campaign to educate patients and doctors about its DWDA. The result has been a significant increase in doctors willing to participate in the DWDA process. Anything that helps make doctors more comfortable, such as education and the involvement of social workers or psychologists, should benefit everyone.
What clinical social workers and psychologists can contribute to DWD
Because social workers and psychologists have a broader and different focus than physicians usually have, their expertise would benefit patients, doctors, and others who participate in care-giving by re-focusing the discussion on the autonomy of the individual and the individual's overall needs. Such professionals are equipped to learn from patients "what scares them, how they're feeling, what they're worried about, what defines their quality of life," as suggested in a report by Soumya Karlamangla in the Los Angeles Times about UCLA's work with the EOLOA.
Medical treatment and care will always be the beginning point, but we need to help develop a broader perspective about the decisions that can be considered. Social workers or psychologists may help patients decide to accept or decline medical treatment or care, to make their advance directives clearer and more appropriate to their wishes, and to help educate their medical agents. They should not be advocates for or against hastening death.
Hospitals in the UCLA system have required social workers and psychologists to talk to patients with incurable illness to discuss a wide range of their concerns. Among those who begin the process of obtaining a lethal prescription after these consultations, only about 25% follow through to the point that they get the medication. But there were benefits other than just educating terminally ill patients. Physicians were educated, as well, about their patients' concerns, fears, treatment, and quality of life. Many such patients then received better pain control, treatment, and peace of mind.
If we are looking at physical debilitation, suffering, psychological distress, and worse, then we need someone with the appropriate training and experience to guide us through the decisions available, including removing interventions that prolong our lives at personal costs beyond those we are willing to bear. Everyone should have available to them pain and symptom management through palliative care. When palliative care is not enough and there are no longer options to make the quality of our lives acceptable and meaningful, we need solutions. Those who find themselves trapped in an unbearable dying process, and who want medical assistance in dying, should be able to receive it in a form they choose.
Focus on autonomy
This two-part series is a beginning for me in looking at ways we can improve the DWDA process. We need to keep talking about improvements and not be satisfied with the gains we have made and will continue to make as such laws are passed in other states.
Adding a clinical social worker or psychologist as a gatekeeper in this process is not a perfect proposal for improving DWDAs, but it may provide patients the guidance they need to find the best solutions for them, and, in doing so, protect them from those who would deny them the autonomy to decide for themselves about hastening their own deaths. That autonomy has always been the foundation of the effort to find a peaceful and "good" death – a right that everyone should have.